8 Frequently Asked Questions About Custom Cabinetry
Question #1: What is the difference between custom cabinetry and semi-custom cabinetry?
Answer #1: Custom cabinetry allows the client to hand pick every cabinet element: wood species, size, paint color, finish, stain, door style, etc. Semi-custom cabinetry starts with a premade cabinet and adds on a limited number of custom elements. Custom also means we build cabinets at any size whereas semi-custom often only comes in stock sizes so you aren't able to utilize every square inch of storage/function.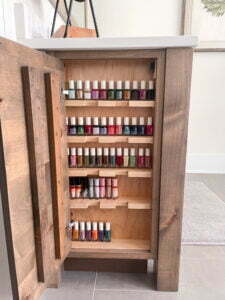 Question #2: What does "fully custom" actually mean?
Answer #2: Fully custom means that the client can create the exact space they envision. Nothing is off limits. Some cabinetry companies are partially custom and offer pre selected options for clients to choose from, whereas Trim Tech Designs is 100% custom and can accommodate an array of client's custom requests. Whatever ideas you bring in with you are used by our designers to construct a plan for your exact space. In one past project we added a custom built-in nail polish cabinet to the side of a bathroom vanity, utilizing otherwise wasted space and providing a beautiful place to display the client's colorful nail polish bottles.
Question #3: What kinds of materials do you use most frequently when creating custom cabinetry?
Answer #3: We work with a variety of materials depending on the project at hand. Since we specialize in custom cabinetry, the materials we use the most frequently are wood and paint/stain. Previous projects have used anything from stainless steel mesh to wood, and our designers are experts at finding the perfect material for the job.
Question #4: What types of wood species do you offer?
Answer #4: We can source and utilize a variety of wood species all depending on what the client is trying to accomplish. The wood species we see most often are maple, walnut, and white oak.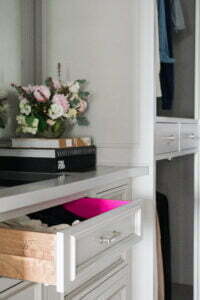 Question #5: What's a must-have feature in custom cabinetry?
Answer #5: There are some cabinetry features that have become increasingly popular with homeowners such as soft close door hinges and drawer glides, which have become a standard feature because of the great value they add to the everyday use of a space. One overarching piece of advice our designers always give clients is to always include plenty of storage space in their plans. It's always better to have too much storage space than not enough!
Question #6: Where can I view samples of your work?
Answer #6: Whether you're looking for kitchens, bathrooms, or just want to see what we do, there are plenty of places to view our past projects! Trim Tech is active on Instagram, Facebook, Pinterest, Houzz, LinkedIn, and TikTok, all of which are great places to see what we've been up to lately and look at projects we've worked on before. We also have a portfolio on our website that features Trim Tech Designs past projects.
Question #7: What is the Trim Tech Designs process like from design to installation?
Answer #7: Trim Tech Designs is a full service company, so that means we work with you from inquiry to installation. The process begins with a client's initial inquiry, followed by a conversation with one of our designers to talk through the project details and design plan. You'll then receive a quote/estimate that will help determine project budget and timeline. The creative process then takes over when our craftsmen start creating and bringing your space to life.
Question #8: Do you provide installation services?
Answer #8: Yes! Our installation crew will come directly to your home, carefully install it, and leave the space better than they found it. Our installers have years of experience and are there to ensure your custom project arrives safely and is installed correctly.
Read our previous blog post titled Create Your Dream Home With Custom Cabinetry to learn even more about the benefits of choosing custom cabinetry, and make sure to follow us on our Instagram account for more project photos and behind the scenes content.