If you follow Trim Tech Designs on Instagram, Facebook, TikTok, or really any social media platform, you've likely seen us highlight the variety of finishing techniques we utilize for our custom projects. Whether you're a cabinet connoisseur or new to the world of woodworking and design, cabinetry finishing is vast and there is so much to be learned about the many finishing techniques that are out there!
It's time to learn about some of our favorite custom finishing techniques that we use regularly at Trim Tech Designs, so you'll be armed with all kinds of options for your next build or renovation project. In this post we'll cover the techniques of glazing, cerusing, and custom staining. Let's dive in!
Custom Glazing Technique
The only "glazing" technique you've probably heard of before now is glazing a donut. When it comes to custom cabinetry however, glazing does not involve delicious icing or pastries of any kind (unfortunately).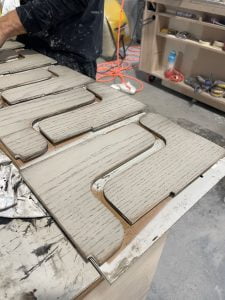 Glazing is a finishing technique used to accent the natural wood grain in a cabinet. After staining or painting the piece, a layer of glaze is applied, left on for a few moments, wiped off, and then sealed with a top coat. The goal is for the glaze to settle into and highlight the natural wood grain. The more you want the grain to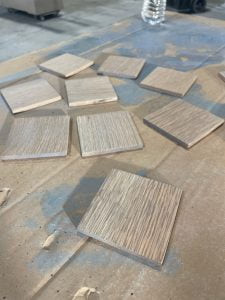 stand out, the longer you let the glaze sit on the wood.
The image on the left features a gray stain with a black glaze, and the image on the right shows a gray glaze on a natural white oak base. Wood glazes come in a variety of colors, so no matter what end result you are trying to achieve, we can make it happen!
Even though both images show stained wood with a glaze, you can actually use glaze on painted wood, whether the grain is showing or not. The combinations and options are endless!
Custom Cerusing Technique
The finishing technique cerusing, also called "liming," has a similar effect to a glaze, but uses a wax to achieve a two-toned finish. Cerusing wax comes in clear, white, light antique, and dark antique.
Trim Tech Designs artisans apply cerusing wax to the cabinet or furniture piece in smaller circular motions, focusing on one area at a time. The wax sits for a short while and is then wiped off. The green and purple samples below show the result of a white cerusing completed by our finishing department.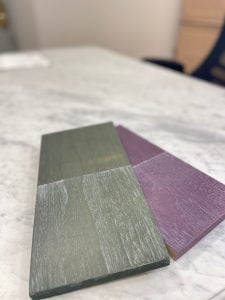 Unlike a glaze which can be applied to both stained and painted wood, there does need to be visible wood grain for the cerusing wax to grab onto.
Cerusing works especially well on bolder, darker colors since it creates more of a contrast. We have seen more and more requests for cerused pieces as color becomes a designer favorite in 2023. 
Custom Staining Technique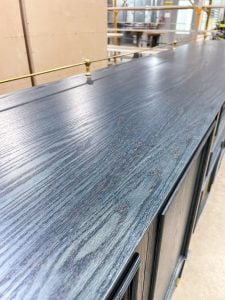 Creating custom stains for our clients is an everyday occurrence here at Trim Tech Designs and one of our greatest passions! Our talented finishing department has the capability to color match any stain (or paint) a client brings in.
So, how does it work? The process is detailed and requires our artisans to precisely measure, record, and select colors to incorporate into a mixture that will eventually become your custom stain. They begin with a base stain and then add small amounts of concentrated red, black, white, and other colored pigments to achieve the desired shade. It takes a trained eye and a thorough understanding of color to be able to complete the custom color matching process and is definitely not a service that every cabinetry company offers!
Customers have brought us some incredible custom stain inspiration ranging from bold blues to shiny silvers and everything in between. We love trying new things and getting creative, so bring us your craziest ideas!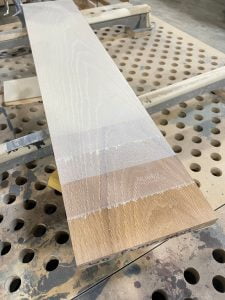 When it comes to custom finishing, our clients are able to hand pick each element and be a part in the entire process. If you're ready to start your next project and want to learn more about the finishing process, all you have to do is submit an inquiry through the "Contact" page of our website. We can't wait to hear your vision and bring it to life!