"I'm loving this edamame color…it's a different take on green. We've seen Emerald, Kelly Green and Deep Forest Green… so this is a more natural subtle shade," said Trim Tech Designs CAD Drafter & Designer, Rebecca. Our pick for August Color of the Month is Edamame by Sherwin Williams, fitting in with the green theme of August's birth stone.
Color of the Month: Edamame by Sherwin Williams
Edamame is a part of the Sherwin Williams Timeless Colors Collection. The Timeless Colors Collection is described by Sherwin Williams as, "These trusted paint colors transcend any temporary trend. Design experts and astute homeowners know they can rely on these go-to neutrals, rich-reds, warm browns, and cool blues and grays every time." 
This natural green with warm undertones brings nature and the earthy vibes of the edamame plant into your home. Just like an edamame plant quietly growing in a field, the paint color Edamame can bring a peacefulness to a room. It's the perfect green for those who want a calm atmosphere that other, stronger greens cannot bring.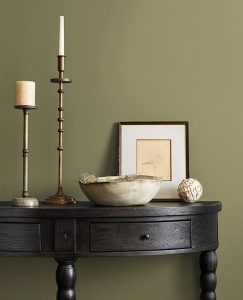 Styling Tips for Edamame
This Sherwin Williams paint color is versatile for any room of your home and any cabinet or furniture piece. Use it in your bedroom, kitchen, bathroom, living room, anywhere you wish! Keep the natural vibes of the color going with some stained wood pieces. Our designer, Rebecca recommends a lighter stained wood to pair with the warm green of Edamame. Specifically, a cerused white oak would pair wonderfully with the green paint, a walnut could be a good pair as well! 
Custom cabinetry can help you create a nice balance of the Edamame paint and stained wood. Whether you wish to put Edamame on your walls or cabinets, custom cabinetry and design from the Trim Tech Designs team can help create the best space for you. 
Edamame's Complimentary Colors
Finding complimentary paint colors for the other walls, cabinets, and furniture in the room isn't always an easy task. For Edamame, you can't go wrong with choosing other natural, subtle shades like the warm whites and yellows listed below. 

A warm but balanced white. 
A bright white with a warm yellow undertone.  
A warm, almost brown yellow.
We hope that this color has inspired you when searching for a paint color in your next home renovation. There are so many paint colors out there, find the one perfect for you! Make sure to stay tuned for our color of the month picks for the rest of this year! Check out last month's color of the month pick here!