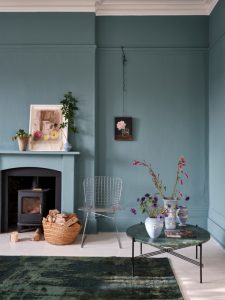 Welcome to our custom cabinetry and interior design blog, where we explore the latest trends and innovations in creating beautiful custom cabinetry and living space. Today, we are thrilled to introduce you to our captivating color of the month Kittiwake by Farrow & Ball. This exquisite shade brings a sense of elegance and serenity to any interior, making it a perfect choice for our next design project. Join us as we delve into the enchanting world of Kittiwake and discover how it can transform your space into a sanctuary of style and tranquility.
Unveiling Kittiwake by Farrow & Ball 
Our July Color of the Month is Kittiwake by Farrow and Ball, a stunning balance of gray and a whisper of blue, perfect for summer. Named after the graceful seabird, Kittiwake is a captivating color that excludes a unique blend of calmness and sophistication. 
The Allure of Kittiwake in Cabinetry Design
Kittiwake's timeless allure lends itself beautifully to cabinetry design, adding a touch of understated elegance to any space. Whether you are envisioning a sleek and modern kitchen or a charming vintage-inspired pantry, this sophisticated shade harmonizes effortlessly with a wide range of materials and textures. the subtle blue undertones create a refreshing and airy ambiance, making it an ideal choice for cabinetry in both an   open and closed floor plan.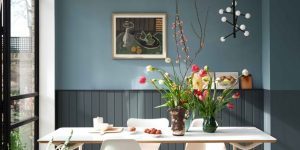 Creating a Tranquil Living Space
Are you looking for a color that promotes tranquility? Consider using Kittiwake which will stay a true blue in all shades of light instilling calmness and serenity. Kittiwake is a great color for a kitchen, bathroom, living room, bedroom or home office. It's neutral undertones create a soothing backdrop that can be accented with contrasting furnishings and décor elements for a truly personalized touch.
Fun fact – Kittiwake looks excellent with stainless steal – thinking stainless steal appliances 🙂 You will thank us later.  
 To elevate your interior design to the next level, consider curating accessories and décor with natural elements like rattan baskets and woven textiles. Soft furnishings in complementary colors such as dusky blues or muted greens, will create cohesion. And don't forget the lighting – choose warm, ambient fixtures to create a cozy atmosphere.  
Pairing Kittiwake with Complimentary Colors
Kittiwake's versatility extends beyond its standalone charm. This graceful hue beautifully complements a range of color, allowing you to  create stunning palettes the suit your personal taste. When it comes to choosing complimentary colors for Kittiwake, you can't go wrong with cool, neutralized blues and whites. These colors can help create a sophisticated, calming atmosphere. 

A rich, dark blue inspired by midnight skies. This rich glamorous blue is a perfect compliment for creating that intimate setting.
A pale blue echoing the color of summer skies. Working well in a room deprived of light. 
Strong by name and strong by nature. A cool white with light gray undertones and an urban feel. A great compliment for keeping things modern. 
There are so many colors that will pair nicely with Kittiwake for you to achieve the space that best matches your style providing you with the opportunity to unleash your creativity. 
In Conclusion
Kittwake by Farrow & Ball has the opportunity to transform your space into havens of elegance and tranquility. Whether incorporating into a custom cabinetry design or using as a back drop on walls, this delicate blend of gray and blue will effortlessly enhance the overall aesthetic. Embrace the serenity of Kittiwake and let it's allure guide you into creating the space of your dreams.
Make sure to check back every month to see our new featured paint color or start designing today with the Trim Tech Designs team.