As the iconic Taylor Swift says, "We never go out of style." Some home design trends and custom cabinetry trends will never go out of style, they're timeless. So we went to our Trim Tech Designs team of professionals and asked designers Lindsey, Katie, and Rebecca what their favorite timeless design trends are. We hope these help to inspire you for your next home renovation project! If you still need some inspiration after reading be sure to check out our portfolio or Pinterest page. 
Lindsey's Top 3 Timeless Home Design Trends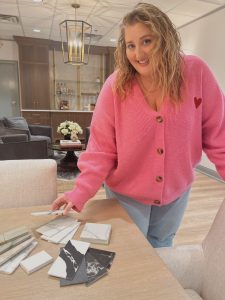 Marble 
Granite or marble? For Lindsey it's marble. "Marble has been around for centuries and never seems to go out of style. The older it is the more imperfections it develops over time from use which tells the story of the stone. It is seen worldwide in different forms, applications, and materials but never seems to be out of place." 
Classic White Kitchen
A design we have seen countless times is a white kitchen but, for Lindsey, it stands the test of time. "Even though we all might be sick of seeing them (in particular white shaker doors, with white subway tile) they have stood the test of time. A white kitchen is classic and can evolve with the changing style of the space over time if need be."    
Custom Built-ins
A timeless cabinet style for Lindsey is a built-in, these can be a great opportunity for storage to be designed specifically for your space. "Whether it be in a library, bedroom, or fireplace surround built-ins can work in any aesthetic if properly designed." Go to our portfolio to see more of our work on built-ins!
Katie's Top 3 Timeless Home Design Trends
The Color Gray
Give it up for the color gray, a color that doesn't go out of style for Katie. "Gray is such a good neutral. It is versatile and can be paired with such a wide variety of design trends. There are many variations in different grays that you can't go wrong with. It's just finding the right shade to pair with the design." Looking for a specific shade of gray, our design team will help you pick our the perfect color ensuring your kitchen, bathroom, or custom furniture remains timeless.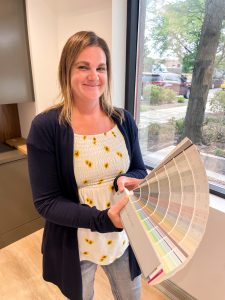 Give it Up for a Classic White Kitchen
A white kitchen is a favorite of Lindsey and Katie! "I am going to have to agree with Lindsey on the white kitchen. Though it has been a bit overplayed throughout the last decade it is the most timeless option you can go with. It's also the safest option you can choose. It can be used in pretty much any design style. It's simple yet classy."
Cabinets: Flat Crown Molding & Shaker Door
When it comes to timeless cabinet trends Katie has two design trends to share that haven't gone out of style. Flat crown molding and a classic shaker door. "Again, the shaker door has been a bit overplayed in the last decade, but it will always be my favorite. I love clean lines in a design, especially in a kitchen that has so many other components going on. As we progress in the design world the shaker has advanced as well into different variations to add a little more of a modern appearance with a timeless trend. Flat molding is just an appeal to me. Though it may be boring in a sense it's not something that you ever get tired of." 
Rebecca's Top 3 Timeless Home Design Trends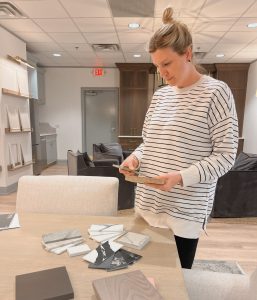 The Element of Wood
When it comes to home design, "Bringing in natural elements into any space evokes warmth, it creates harmony with different design materials and gives an inviting ambiance whether used in cabinetry, furniture pieces, or accent pieces. No matter the current trending species or stain, it always comes back full circle… just perhaps evolved or updated in a different cut or finish. Also, wood ages beautifully… it tells a story and shows its extraordinary characteristics." Our portfolio shows additional ways we have incorporated the "wood look" into rooms. 
Curating Ideas and Unique Finds
Adding a unique piece of furniture to your space is a timeless tip from Rebecca. "Rather than buying in bulk, you want to own pieces that shines your personality vs. all picked and bought from page 9 from a catalog. Anyone can achieve a new dining room, kitchen, etc… but when you have that unique furniture piece you found at the market on vacation and incorporate it into your room, it elevates that room from just new to interesting." Try out a new small shop or market next time you want to add some style to your space!
Local & Custom Designs
"Handwoven rugs, hand scraped floors, custom built furniture… there's something to be coveted for a labor of love. It's not only an end result product, there's something very special tied to that very special item made just for you. Consumers recognize that spending a little more for better quality, one-of-a-kind pieces and helping support one another is priceless." If you haven't heard, Trim Tech Designs can bring your timeless custom furniture dreams to life. Crafted with precision, our custom furniture embraces modern appeal with old-world quality.
When it comes to timeless home design and cabinetry trends, Trim Tech Designs specializes in creating exquisite interiors through bespoke cabinetry, millwork, and furniture. With no mass production, everything is inspired, designed, and finished under one roof by our artisan team. We endeavor to create custom cabinetry with distinctive and timeless design. 
Connect with the Trim Tech Designs team to receive a quote and start designing your custom cabinet for a furniture project. Our team of designers and craftsmen are ready when you are.