March 2023 marked the first release of our Color of the Month series where Trim Tech designers hand pick a color to share with our community each month. It's the perfect place to go for inspiration and reliable design expertise. We are excited to announce our color of the month for May 2023: Brick Paver by Sherwin Williams!
As the weather gets warmer, we start longing for days spent relaxing by the pool with a cocktail in hand. Well, I don't have a pool, but a girl can dream, right?! No matter what's on your agenda for the summer, there's always one thing that rolls around this time of year: home renovations.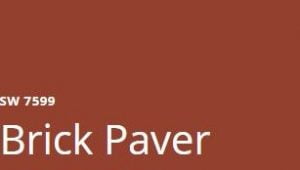 At Trim Tech Designs, we are involved in countless home remodels and renovations, and one of the most fun parts of the process is choosing a color for your project. This can also be a stage where homeowners get stuck and struggle to find the right shade. That's what we're here for!
Color of the Month
Brick Paver by Sherwin Williams is the perfect color to kick off summer because it brings out the bold, bright, and fiery hues of the season. Like other designer favorites, it can also be easily transitioned through multiple seasons.
A mix between a medium dark hue of red and orange, Brick Paver by Sherwin Williams aligns with the overall interior design theme for 2023: The Year of Color. Whether you're using Brick Paver for an entire room, to accent another paint color, or to make a piece of furniture pop, there are endless opportunities for this fun color!
How To Style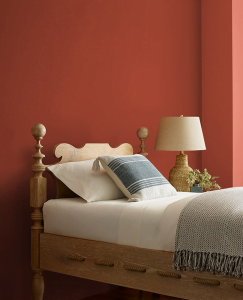 Now it's time to get creative and brainstorm some ways to utilize Brick Paver by Sherwin Williams in your home. Right now, designers are deeply inspired by bold colors, textures, and patterns. Here are some spaces of the home we think Brick Paver by Sherwin Williams would shine!
Brick Paver Wall Color
If you really want to make a room stand out, Brick Paver should be at the top of your list. Brick Paver makes a bold statement and allows for a lot of creativity when it comes to choosing home decor and furniture. To play off another popular trend, you can also pair Brick Paver with some fun patterned wallpaper to make your space even more unique.
Here are some rooms that would be fun to use Brick Paver by Sherwin Williams in:
Living room
Bar
Study
Closet
Hallway
Brick Paver Painted Furniture
Everyone loves an accent piece, and Brick Paver is the perfect stand out for your furniture pieces. Whether you're ordering custom made furniture or refurbishing in the backyard, experimenting with fun new furniture colors can be one of the best ways to find your personal style.
We're known for our custom cabinetry, but here at Trim Tech Designs we also make custom furniture pieces! Our team has designed and crafted custom buffet tables, desks, dining tables, dressers, wardrobes, and more, that have all been 100% tailored to each individual client. If you're interested in learning more about our custom furniture capabilities, click here.
Accents for Brick Paver by Sherwin Williams
Décor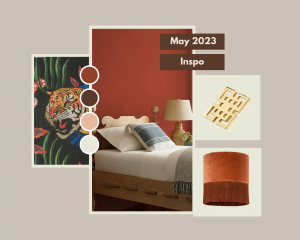 With such a bright color, the options are endless for how you can accessorize it! Similar to wallpaper, adding a bold patterned rug could be an eye-catching feature that ties in the whole room.
Hardware
As cabinetry experts, hardware is one of our designer's favorite things to get creative with. There are endless places to purchase hardware from, but here are some of our designers' favorites:
Complementary Paint Colors
It can be hard to identify one paint color you like, let alone complementary ones! Here are some shades that would pair nicely with Brick Paver by Sherwin Williams:
We hope you feel inspired for summer and ready to take on all your home renovation projects! Keep an eye out for more Color of the Month blog releases, which are posted the third week of every month.