Picture this – A custom kitchen island in Mount Etna by Sherwin Williams.
A stunningly versatile ashy blue paint color with undertones of green and gray. It is a gem-toned showstopper and would look beautiful with white custom cabinets or taupe custom cabinets.
Not your thing – don't fret.  You reserve the right to try new things and create your own individual style. With that being said, there are some colors that work extremely well with a variety of interior design styles and seamlessly fit into multiple spaces of a home. One of those colors is our June color of the Month: Mount Etna by Sherwin Williams.
Color of the Month
Mount Etna by Sherwin Williams is one of the most versatile colors on our list in 2023. An ashy blue with undertones of green and gray, Mount Etna can be paired with a variety of complimentary neutrals and fit into just about any space.
As a member of the "jewel-toned" family, Mount Etna was identified as a top color for 2023 by Sherwin Williams itself! Let's look at all the different ways this beautiful paint color can be used in your home.
How To Style
Mount Etna Wall Color
If you're trying to achieve a moody, relaxed vibe, then Mount Etna should be at the top of your list for a wall color. Mount Etna's gray undertones are perfect for people who generally gravitate toward a cooler palette.
You can even use Mount Etna for your ceiling to add a pop of color yet compliment the neutrals  in the rest of the room. One of the most unique features of Mount Etna by Sherwin Williams is it's variation depending on the amount of natural light a room sees.  It can look  green, gray, and  even blue. Make sure to consider this when choosing to paint with Mount Etna!
Mount Etna Painted Furniture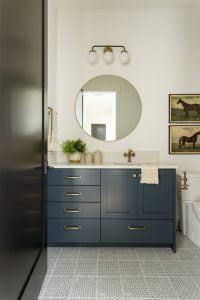 We are obsessed with custom furniture and can't imagine a more beautiful shade to use for a vanity, sideboard, desk, or dresser. It can be hard to find a paint for furniture pieces that both stands out and flows with the rest of the room —  somehow Mount Etna by Sherwin Williams does just that.
The photo of the bathroom vanity on the right demonstrates just how beautiful Mount Etna looks as a centerpiece in the room. Details like a neutral backsplash, patterned tile floors, unique art, and brass hardware all pull the space together and highlight the beauty of Mount Etna.
Accents for Mount Etna by Sherwin Williams
Décor
When it comes to décor, Mount Etna might just be one of the easiest paint shades to decorate alongside. You can add wallpaper, tile flooring or backsplash, patterned rugs, etc. and really get creative making the space your own.
Hardware
One of our favorite things about Mount Etna is that it pairs well with all different kinds of cabinetry hardware. As cabinet experts, we pay close attention to and take time selecting all our client's cabinetry hardware. Brass, nickel, and ceramic knobs all go beautifully with this gray/blue shade. Here are some of our hardware suggestions to accompany your Mount Etna project:
Complementary Paint Colors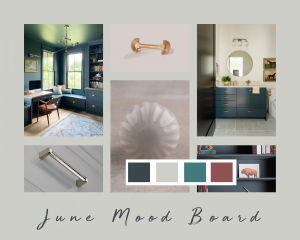 Because of its cooler notes, Mount Etna goes well with other gray and jewel toned paint colors. If you want to utilize Mount Etna in your project, but don't want to go all out and paint a whole room then pairing it with complementary colors may be the way to go. Here are some suggestions:
There are endless options when it comes to paint, but choosing a versatile, crowd-pleaser color like Mount Etna by Sherwin Williams can often be the best way to go. We hope you love Mount Etna as much as we do!
Make sure to check back every month to see our new featured paint color.