Upgrade Your Home With These 10 Cabinet Accessories
Finding the perfect place to store all of your household gadgets can be challenging to say the least. Are we really expected to lift our heavy KitchenAid mixer onto the counter every time we want to use it? When designing your new build or remodel, make sure to consider all of the cool, new cabinet technology you can build right into your cabinetry. If you're looking for inspiration, here are some of our clients' favorite built-ins.
KitchenAid Mixer Lift
KitchenAid mixers are reliable and versatile, but man these things are heavy! Make your life easier by adding built-in storage made specifically for your mixer. All you have to do is open the cabinet door, pull up your mixer, and viola! This counter-height shelf allows you to bake, clean up, and put the mixer back in its place all without moving it an inch.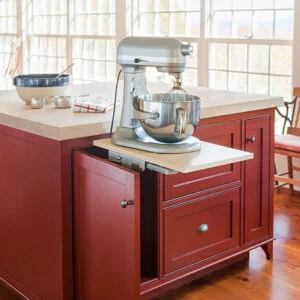 Built-In Trash Can
Built-in trash cans are a staple in new homes and remodels, and for good reason. They're functional since a trash can is needed in almost every room, and they're aesthetically pleasing since all of your trash stays hidden behind a beautiful cabinet. You can even get extra fancy ones similar to the trash can pictured here that automatically move the trash can lid as the door opens and closes.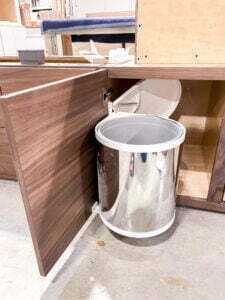 Kitchen Utensil Holder
If you're anything like us, you've accumulated a number of kitchen utensils over the years. Storing them on your kitchen counter can sometimes feel cluttered, so a lot of homeowners are now opting to stow away their utensils in a cabinet. This built-in kitchen utensil storage allows you to keep all your spatulas, turners, and spoons accessible without distracting from your cohesive kitchen design.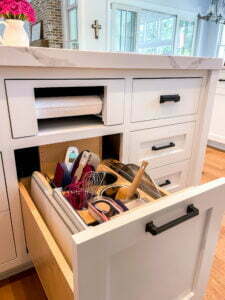 Smart Corner Mechanism
We've all seen the classic, spinning lazy susan corner unit where all your kitchen items go to die. We've been neglecting this great space for years, but no more! This smart corner mechanism allows you to see everything stored and make use of that awkward space.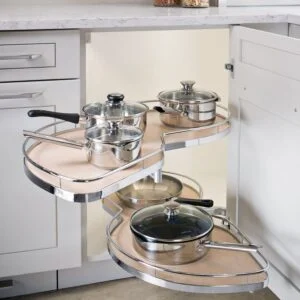 Knife Holder
A built-in knife holder is a luxury we didn't know we needed. Similar to kitchen utensils, it's another great way to clear off counter clutter while still keeping items accessible. The black fibers you stick the knives into actually clean and sharpen them for an all around better knife.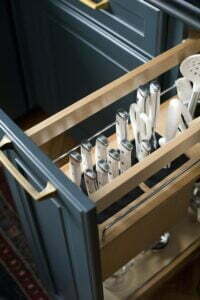 Step Stool
Any parent will tell you, it can be a struggle to get your little ones to wash their hands properly. Give them a boost (literally) by adding a built-in stool next to the kitchen sink so clean up time is a breeze. Or you can add a stool where there's tall, hard to reach cabinets. Simply pull the drawer out, de-collapse the stool, and you're good to go.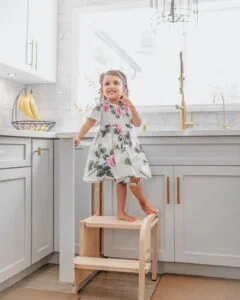 U Shaped Vanity
When it comes to bathroom vanities, homeowners usually need all the storage they can get. This "U shaped" vanity is a great way to utilize otherwise wasted space underneath a bathroom sink. Have your most used products, bathroom linens, or small knick knacks at the tip of your fingers!
Paper Towel Holder
This is one of the coolest cabinet accessories yet since almost everyone has a use for it! Who wants a giant paper towel roll ruining the look and feel of their kitchen? You can place your paper towel built-in anywhere you'd like: kitchen island, beneath the kitchen sink, next to your trash can, etc. The possibilities are endless!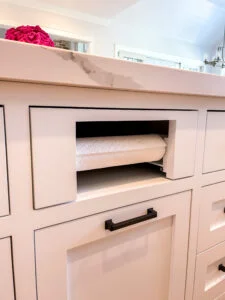 Spice Rack
Meet the spice rack of your dreams. This built-in, pull-out storage unit can be used for just about anything: spices, bowls, food, etc. Even if you don't need an entire cabinet like this one, you can still opt to put one of these drawers in your kitchen (or any other room in your home) for additional storage.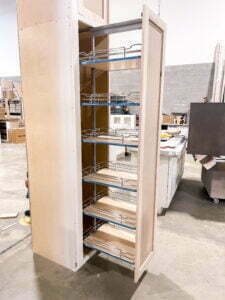 Baking Sheet Racks
We all know the feeling of rustling through baking sheets trying to find the exact one you need. Storing baking sheets vertically allows you to see everything you have so no pan is buried under another.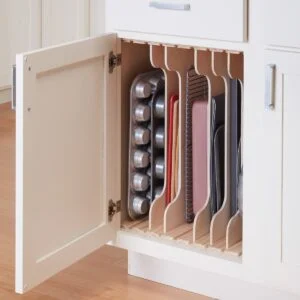 Accessories like these illustrate just how helpful custom cabinetry can be in organizing your home. At Trim Tech Designs we are constantly creating unique storage solutions for clients and can't wait to see what ideas you have in store for us. Visit our contact page to speak with a designer within 24 hours of submitting your inquiry. We're here to bring your ideas to life!