Ways to Maximize Cabinetry Storage
Let's be real, we all have a hidden junk drawer (or a not-so-hidden junk room) that no amount of spring cleaning can fix. AKA the place where all your extra cooking gadgets, camping gear, and yard supplies go to die. When you think about organizing these areas of your home, you end up in a little ball in the corner of your bathroom holding a bottle of wine and a box of Cheez-Its listening to R.E.M. 's "Everybody Hurts" on repeat. What is the remedy to this eternal struggle?!
Well, you're in luck. Your home organizing problems can end before they begin by mastering one crucial element: cabinetry storage. And no, cabinets are not just reserved for kitchens! Laundry rooms, mudrooms, pantries, bedrooms, bathrooms, literally ANY room can have cabinetry. And the best part, you don't need to completely gut your house to benefit from new and improved cabinetry storage. 
Purchase inserts to add to your existing cabinetry or add supplemental storage to your current layout. After reading this list, you'll be that weird friend that has to show off her organized pantry to everyone who visits. Isn't that awesome?! Let's get into it!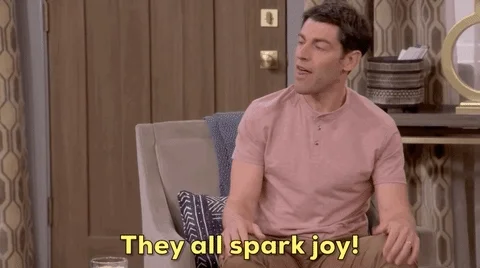 1. All about layout
It's important to look at your space ahead of time and see where things would naturally fit and flow. Where can you add storage that's easy to reach and realistic to maintain?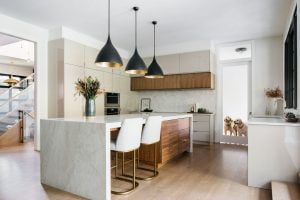 For example, add an insert for coffee storage right in a drawer around where your coffee station is located so you'll actually use it! Don't force cabinets in places they don't belong, but still get creative and utilize unique storage spaces.
2. Include rollouts in your cabinetry plans (or add them in)!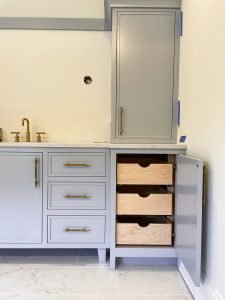 No matter what room you're organizing, rollouts are a great addition to your cabinetry. Rollouts are a drawer that can be pulled out of a cabinet so you can access the entire space, compared to a regular shelf that you have to reach all the way back for access.
Rollouts can come in a variety of formats: you can put a rollout inside of a cabinet or inside of a drawer creating a sort of "double drawer" as pictured below. Store smaller items in a shallow rollout drawer and bigger items below in a larger rollout. The options are endless!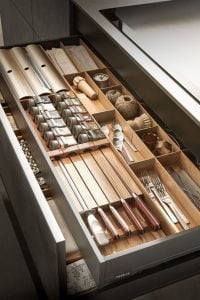 3. No such thing as too many inserts
Inserts are an absolute must have and are so easy to add to your home! Whether you build them into your new cabinetry or add them to existing cabinets, the options are endless for the number of things you can organize.
Add inserts for anything: spice rack, corner cabinets, vanities, shoes, knives, utensils, paper towels, the list goes on! Inserts are affordable, practical, versatile, and you can change them out anytime you want. The best of all worlds!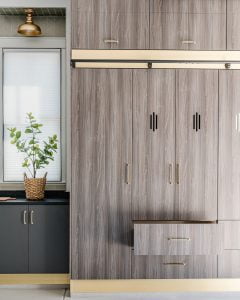 4. Drawers, drawers, drawers!
Drawers are no new invention, but they're still the best for storing and organizing. Sure we all have messy garages with snow gear and toys thrown everywhere, but so many of our organizing struggles come from small knick knacks that float freely in an unorganized drawer. Utilize drawers in literally any room in your home (including your garage) so everything has a place. Coupled with a good insert, you'll never have messy drawers again (we promise)!
5. When in doubt, add a shelf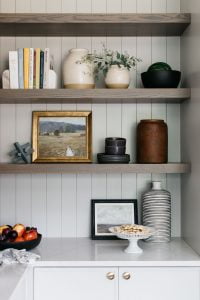 Floating shelves, glass shelves, and open shelving of any kind is perfect for adding storage and displaying your favorite things. Shelving is an affordable, accessible, and simple solution for homeowners, no matter if you have a brand new home or have lived there for decades. For example, add a shelf above your coffee bar to display and organize your mugs or add bookshelves to your playroom to organize your child's books.
Another benefit to shelving is that it isn't totally permanent. So, if you realize that you want a shelf in a different location or at a different height, it's fairly easy to adjust and move.
Use these 5 methods to maximize cabinetry storage in your home, relieve stress, and stay organized. You can even go one step further and work with our designers to customize storage solutions to the exact dimensions of your home! Submit an inquiry through the Contact page on our website and speak with a designer to start developing your perfect storage!