Let's focus on color, more specifically Pine Grove by Clark and Kensington. Our Trim Designs team hand selected Pine Grove as our highly noted color of the month.
Paint color is important and since we're already nearing the end of February (Can you believe it?), chances are you're already thinking of all the renovations you can tackle this spring and summer. No matter what your project is, deciding on the perfect paint color can be difficult. One of the best ways to ease decision fatigue is by consulting experts!
Trim Tech Designs designers, Lindsey and Rebecca, are obsessed with all things design. We're here to share their brilliant tips, tricks, and opinions so you can gather inspiration for your own home. Starting now, we will be releasing a Color of the Month that's been hand-picked by our designers and aligns with current interior design trends that are up and coming in the industry.
It is the year of color so be prepared… We will cover a variety of color palettes: from moody and dark to light and bright. Gone are the days of scouring the aisles of Home Depot with hands full of paint samples. Sit back, relax, and read all about the paint colors that are sure to be showstoppers in your home!
Color of the Month
Black will always be considered a timeless, classic shade that can be easily incorporated into a home. If there's any color that's been giving black a run for its money, it's green. Unless you live under a rock or have actually stuck to your social media detox (we clearly haven't), then you've no doubt been seeing green plastered all over your feed.
Green cabinets, green décor, green walls, green furniture, green EVERYTHING!
Green is ruling the scene in every way: light green, Kelly green, olive, and hunter green are all making their mark and taking the design world by storm. It's very fitting that our first Color of the Month aligns with this trend.
A moody green with slight blue undertones, Pine Grove makes a bold statement without being too intense. We know what you might be thinking right now, "Sure it's beautiful, but how on earth would I incorporate that into MY home?!" We've got you covered.
How To Style
One thing that nobody tells you about painting your home is that there are really no rules! Sure, you must follow rules when applying the paint, but choosing color? That's all up to you.
Keep in mind that these are simply ideas and suggestions on how to use Pine Grove in your home. At the end of the day, your home is your sanctuary and you can do whatever your heart desires!
Pine Grove Cabinet Color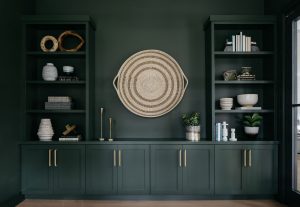 As a custom cabinetry and millwork company, we absolutely love it when clients incorporate shades like Pine Grove into their cabinetry. Green cabinetry makes a statement especially compared to the softer, more neutral grays, browns, and whites we often see. Enhance this moody green color with brass or gold hardware, walnut  shelves, and neutral décor.
Pine Grove as a Wall Color
When used on a wall, Pine Grove adds a sort of depth and richness that really elevates your décor and furniture. We've seen homeowners opt for green cabinetry and green walls for a monochrome look where the cabinetry seamlessly blends with the wall. If you want your furniture to pop a bit more, you can model your home after this photo where the wood accents stand out against the wall color.
Pine Grove Painted Furniture
Whether you're refurbishing an old piece of furniture or building one from scratch, a furniture piece in Pine Grove by Clark and Kensington would be the perfect bold statement to add to an otherwise plain space. Imagine a neutral bedroom with Pine Grove painted nightstands that add a pop of color against a board and batten wall!
Accents for Pine Grove by Clark + Kensington
Hardware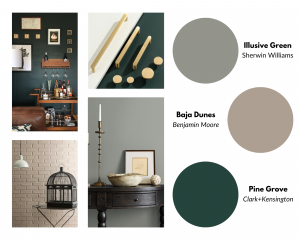 Hardware can have a huge impact on a space and be the perfect finishing touch. Brass fixtures or anything copper brings out the warm tones in a deep, lush green like Pine Grove.
Wood Species
As experts in woodworking, we also must recommend a wood species that pairs well with Pine Grove. At Trim Tech, our policy is when in doubt, choose walnut. And we hate to be right all the time, but it applies here too.
Complementary Paint Colors
If you are dying to use Pine Grove by Clark + Kensington but don't want to fully commit, you can pair it with some neutral options like Baja Dunes by Benjamin Moore or Illusive Green by Sherwin Williams. Baja Dunes is the warmer of the two but mixes in both gray and green undertones. Illusive Green works well with the cooler tones of Pine Grove's deep green and adds a starker gray element.
Experimenting with color is one of the best parts of remodeling or renovating. We hope you enjoy our March 2023 Color of the Month, and make sure to stay tuned for our new color releases in the following months!