For those of us who reside in colder climates, Punxsutawney Phil did us no favor by announcing an additional 6 weeks of winter. But the light at the end of the tunnel is finally here, and it is officially SPRING! There is no better way to start the Spring season than by announcing the Trim Tech Designs Color of the Month for April 2023: Dead Salmon by Farrow & Ball.
This stunning shade has endless potential. Trim Tech Designs designer, Rebecca, says "This year holds a new spot for bold color, but in a more subtle way. 2023 will be splashed with hues of dusty pinks like Dead Salmon by Farrow & Ball."
Let's dive into this brilliant color and see how it can be styled and accented in your home.
Color of the Month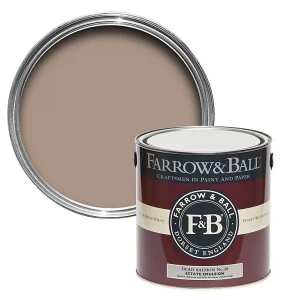 You may have been wondering the same thing we were, "Um, why is the name of this color Dead Salmon?"
Great question! The Farrow & Ball website explains this stating the "dead" portion of the name refers to the flat matte finish of the paint. So, you can go ahead and stop picturing an actual dead salmon every time we mention the name LOL!
The most common paint finishes are semi-gloss and eggshell, so the dead or flat finish adds a unique and different twist. Our designers are seeing more and more clients requesting a flat matte finish for their cabinetry, so this trend is gaining momentum.
Because of its muted and neutral tones, Dead Salmon can also appeal to a wide audience of both pink lovers and non-pink lovers. It adds a cozy vibe to a space while maintaining a bright, happy feel.
Whether you're looking to paint a furniture piece, child's bedroom, or powder room, Dead Salmon might just be the color you've been searching for!
How To Style
As you've probably heard, 2023 has been deemed the "Year of Color," so now is not the time to hold back with your paint choices!
We've been making custom cabinetry since 2007, and needless to say a lot of trends have come and gone during that time. One thing that has stayed consistent though is people like to switch up their style and experiment. Here are some suggestions on how to use Farrow & Ball Dead Salmon in your home!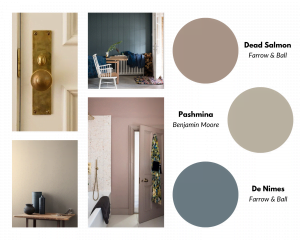 Dead Salmon Cabinet Color
As a homeowner it's tempting to want to choose a classic black, white, beige, or gray for your cabinetry so it "never goes out of style." The truth is that what's stylish and not stylish is totally up to you! We've seen homeowners choose bright blues, pinks, reds, purples, and a whole spectrum of different shades for their cabinets.
Dead Salmon adds a warm and inviting feel that will compliment multiple different cabinetry creations and be a unique and fun statement in your home.
Dead Salmon as a Wall Color
Even if you don't want to commit to painting your entire kitchen this gorgeous shade, it can still be utilized in a variety of different spaces in your home. Here are some of our favorites:
Powder room
Children's bedroom
Study
Living room
Nursery
Library
Dead Salmon Painted Furniture
Whether you're ordering a custom furniture piece or refinishing an antique, Dead Salmon is a great way to add a pop of color to a space. Furniture is a great way to experiment with paint colors and see what you like without fully committing.
Accents for Dead Salmon by Farrow & Ball
Lighting
Adding unique lighting fixtures can be a great way to achieve a specific aesthetic and help tie a space together. This photo uses a bright blue sconce to contrast the pink and bring out the different colors in the artwork.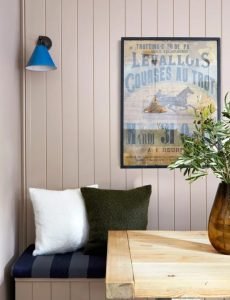 Décor
Adding throw pillows, wall art, furniture, plants, and countless other types of decor can be one of the best parts about redoing a space and can often have the biggest impact. Dead Salmon is a fun color to decorate alongside because it works well with a variety of other shades.
Complementary Paint Colors
Last but certainly not least, it's useful to know what other colors compliment Farrow & Ball Dead Salmon and help highlight the undertones. For those who like a balance of warm and cool tones, Pashmina by Benjamin Moore may be the versatile shade you're looking for. If you're looking to create a colorful space, then De Nimes by Farrow & Ball will add an elegant blue hue.
There's no such thing as too much color! Enjoy Farrow & Ball Dead Salmon during April 2023 and beyond, and make sure to keep an eye out for next month's featured color.