There's nothing better than a gorgeous vision board you can reference for a constant reminder of what you want your space to look and feel like. If you're in the process of building, remodeling, designing, or renovating a home, vision boards ensure each room in your home feels cohesive and stays on trend. Take the polka dot accent walls and chevron rugs from your old Pinterest boards to the next level!
Every vision board is completely customizable-it's literally your vision on paper! When designing your board, our Trim Tech designers recommend including key elements such as a balanced color palette, a reference photo, and additional detail photos. We've created a sample vision board centered around one of our favorite designers' work, Jean Stoffer. Vision boards are simple to create using tools like Canva, Microsoft Word, Google Docs, or even the "old fashioned" route of scissors and magazine clippings. Using this vision board as an example, let's walk through the must have elements of a dream kitchen vision board!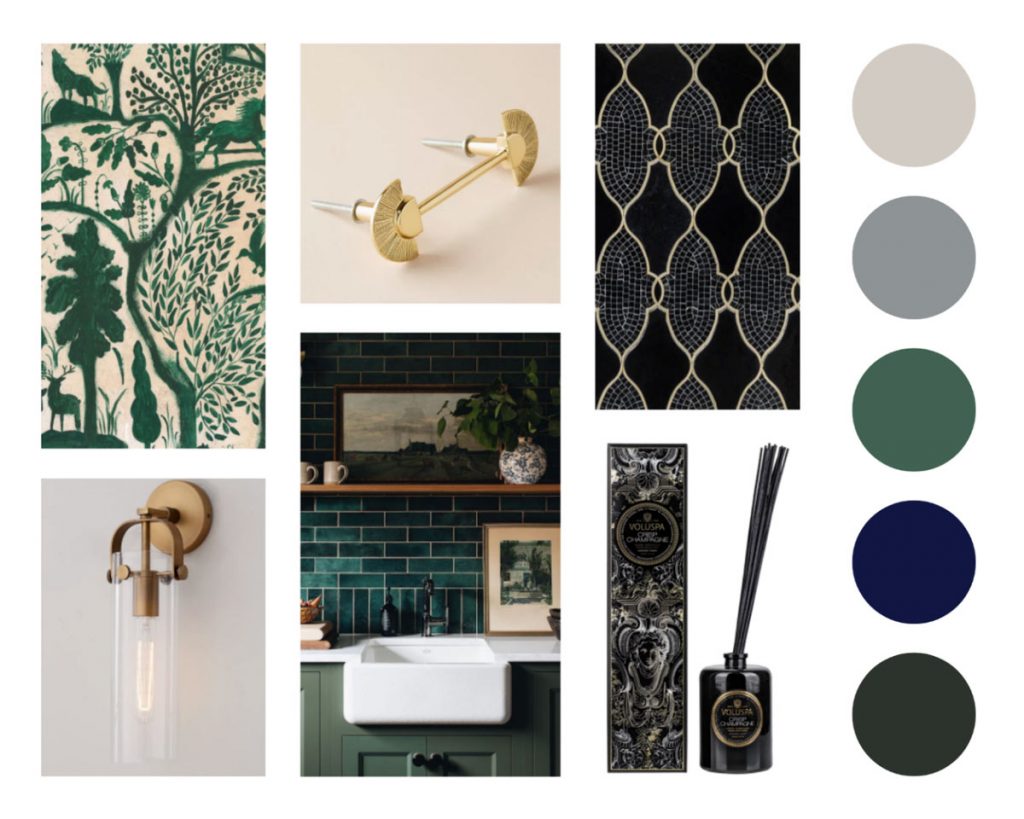 Color Palette
Whether your color palette is for an entire home or one room, each shade should complement each other and reflect your personality. Start with a neutral color like black, grey, beige, etc. For our vision board we chose three neutrals: light grey, medium grey, and a very dark green. These correspond to Sherwin Williams Drift of Mist, Mineral Deposit, and Jasper.
Now add a pop of color with your favorite accent shades! Use these colors for decorations, furniture, or accent walls. Our accent colors, hunter green and navy blue, add a cool and chic feel that complements the fun patterns and textures in the detail photos. These accent colors correspond to Sherwin Williams Shamrock and Salty Dog.
Reference Photo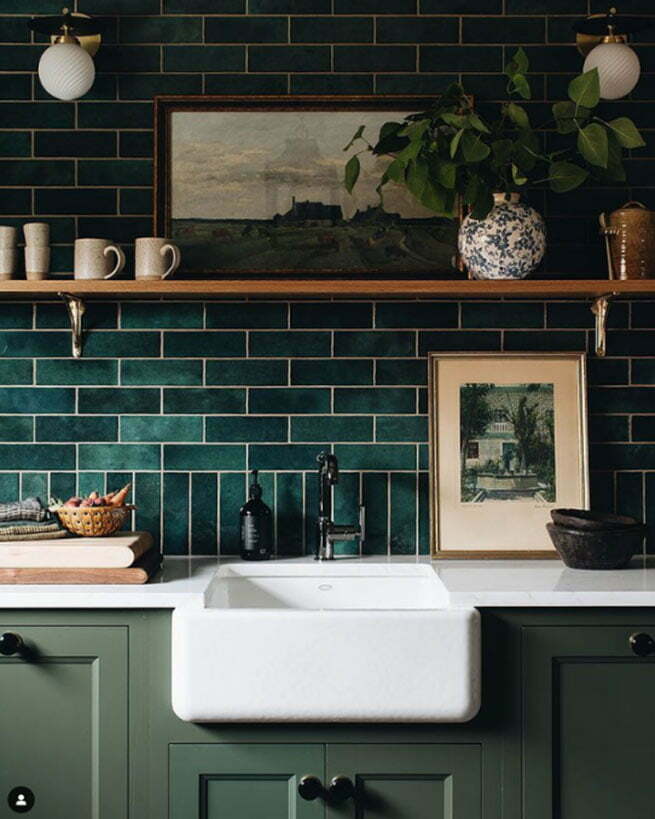 Here's where your Pinterest board comes in handy! To stay focused on the overall aesthetic, begin with a reference photo. A reference photo is essentially one photo that accurately represents what you want your entire space to look like, the anchor of your vision board. This can be a Pinterest photo, a friend's home you really like, or another room in your home that is already styled. The reference photo should encompass your color palette and overall style. Our reference photo (found on @jeanstofferdesign on Instagram) has emerald backsplash, green cabinetry, matte black hardware, and gold light fixtures. This photo reminds us of the aesthetic we want to achieve in our dream kitchen.
Detail Photos
This is where you can "go all out" and choose a variety of home related accents that inspire you. It's kind of like online window shopping; you get to look at pretty things but don't have to actually buy them! We chose a wallpaper sample, tile sample, light fixture, hardware, and Voluspa scented reed diffuser. Voluspa products not only look beautiful in your home, but also add a long lasting, signature scent with a cozy feel. During your search, you might come across items you want to purchase. Bookmark them for later to make the furnishing step easier!
Get Creating!
The beauty of vision boards is that there is no right or wrong way to make them. It's all about your interests, style, and ideas! Vision boards are a great way to get your creative juices flowing and to get excited for the overall home building, renovating, design, or remodeling processes.
At Trim Tech Designs, creating, envisioning, and designing is what we do! Start your custom home design experience with us by submitting an inquiry on our website. We can't wait to work with you!