What bathroom feature matters most to you: storage, style, simplicity, or cost?
Our first October blog post celebrated National Kitchen and Bath Month by highlighting 5 popular types of kitchen cabinets. Though the kitchen is considered the heart of the home, bathrooms are one of the most frequently renovated spaces and deserve their moment to shine! In this post we'll take a look at 4 different Trim Tech Designs bathrooms, see what makes them unique, and identify how design decisions can impact the entire space.
Close your eyes and think of your dream bathroom. What do you see? Good lighting? Plenty of storage? A jacuzzi bathtub? No matter what your dream looks like, it is possible to build a bathroom that meets all your needs. We have created and renovated countless bathrooms and know a thing or two about what paint colors, cabinet styles, storage elements, and accessories serve homeowners best.
So, what do we want to accomplish by looking at these 4 bathrooms?
Our Goals:
Avoid common mistakes that homeowners make when designing their bathrooms.

Assess your needs and figure out what you want to get out of your bathroom setup.

Provide inspiration for future bathroom build and renovation projects.
We'll divide these 4 Trim Tech bathrooms according to their #1 feature, AKA the thing they do best. These distinctions are storage, style, simplicity, and cost effectiveness. Let's get started!
Bathroom Storage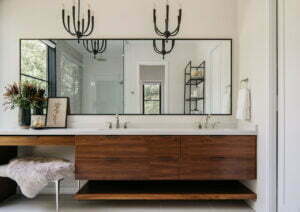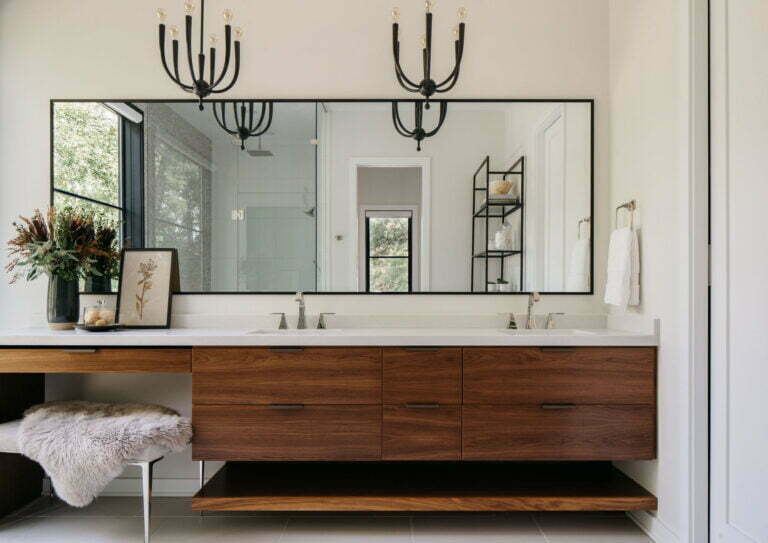 Our designers' number one piece of advice for homeowners who are creating a bathroom vanity is to include ample storage. It's easy to get caught up in the overall aesthetic and forget about the fact that you're going to be using this vanity every day. This walnut master vanity is not only beautiful, but also has plenty of storage for hair tools, toiletries, and other bathroom supplies. With 6 drawers and a cutout under the sinks for extra storage, this vanity was thoughtfully designed with the homeowners needs in mind.
Another crucial component to vanity storage is counter space. We've all experienced a surplus of products overflowing off of our bathroom counter. That's the last thing you want in your newly built or renovated bathroom! The vanity pictured has an extensive counter top that even allows for a sit-down getting ready station (with an additional drawer for storage). If we had to rank it, storage is definitely #1 on our must-have list for bathroom vanities.
Bathroom Style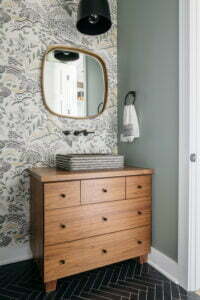 This gorgeous vanity is the perfect representation of creative style and ingenuity. From the wallpaper to the walnut vanity, this powder room is a true work of art and shows just how fun designing your bathroom can be! 
If style is your top priority, there is an unlimited world of opportunity for you. Begin by 1) understanding your personal style and the home aesthetic you want to achieve and 2) meeting with a designer to start generating ideas. Find a designer who likes to think outside the box and is committed to executing your vision. The design elements you want to incorporate usually already exist or can be created, so there shouldn't be much holding you back!
Simple Bathroom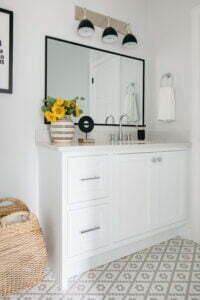 She's clean. She's crisp. She's simple. The homeowner's favorite: the classic, white cabinet vanity. 
This vanity is a favorite for good reason. Besides being clean, crisp, and simple, it will truly never go out of style and will fit into any home aesthetic. However, there are many ways to design a simple vanity that don't involve color choice. This vanity has a standard layout with pull out drawers and large under the sink storage. Its classic chrome faucet adds to the clean and simple vibe while still feeling luxurious.
Reasons why people might choose a simple vanity option:
– They don't want to choose between a million different options.
– They want the space to appeal to a variety of people with different styles.
– They are worried about trends changing and want to stick with a classic, safe option.
Cost Effective Bathroom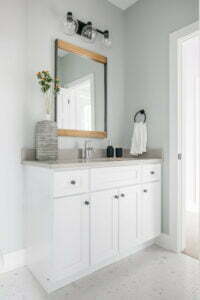 According to Trim Tech designers, there are multiple strategies that homeowners can employ to make cost effective choices when remodeling their home. One way to save some money is to opt for cabinet doors versus drawers, like in the vanity pictured here. Doors only require a hinge and a cabinet door whereas drawers require a drawer box, slides, and a drawer face. Fewer parts means more affordable. You can have the best of both worlds by including a couple of drawers versus all drawers, like the vanity pictured here, helping cut costs as well.
Another strategy our designers recommend is choosing overlay cabinet doors instead of inset cabinet doors. Overlay doors lay on top of the cabinet base whereas inset doors sit flush with the cabinet base. Inset doors take more time to assemble and require more intricate components, whereas overlay doors are simple to assemble and are generally the "standard" and more economical option.
We hope your creative juices are flowing and you are full of inspiration and new ideas for your build or remodel! If you have any questions about the bathroom remodel process and want to talk them through with a designer, feel free to submit an inquiry through the "Contact" page of our website to speak with a designer within 24 hours. Make sure to follow our Instagram and Facebook pages for lots more inspo and interaction!